It's no secret figure skater Mirai Nagasu is a hard worker. And the Olympian says the apple doesn't fall far from the tree.
Nagasu, who became the first American woman to land a triple axel at the Winter Games, spent much of her childhood at her parents' sushi restaurant in Arcadia, California. She even slept in the establishment many nights as her parents worked.
During that time, she picked up some important life skills.
"I have a great work ethic because I've watched my parents work super hard," the figure skater said, according to The Washington Post.
She added, "I'm also great at dishwashing because of the restaurant, as well!"
Nagasu's father Kiyoto refused to take vacations, missing many of the skater's competitions. The Los Angeles Times noted that Kiyoto refrained from taking time off since closing the restaurant would mean, his employees would go without pay. In fact, when the skater performed her historic triple axel, the parents were working the dinner rush at their restaurant, Kiyosuzu. Mirai's jump helped propel Team USA to a bronze medal in skating. Ikuko, the skater's mother, told USA Today Sports that they'd watch her performance later that night on DVR.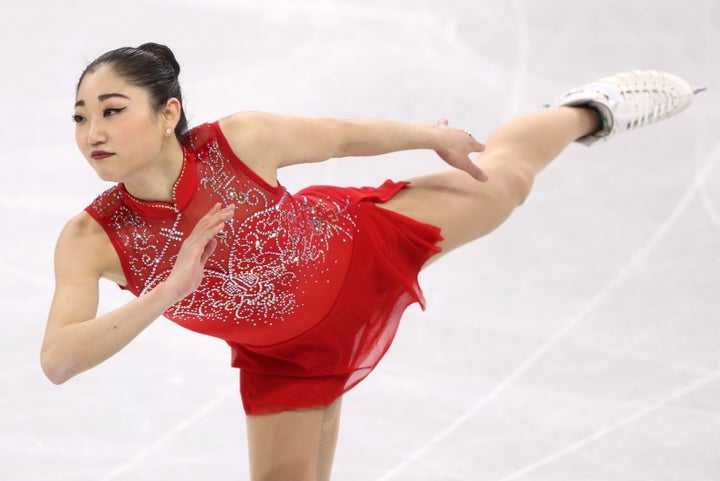 "Wow, can you believe it? Her child wins a medal and she's still here — working, working," patron Helen Lee told The Los Angeles Times. "It's surprising, but I really respect that she stays with her responsibilities, running a business."
The couple did make a rare exception to their work schedule for the later portion of their daughter's performances in the Olympics.
"The business is important, but it is special to be able to watch Mirai," Ikuko told USA Today. "We will shut the restaurant, go quickly, and come back quickly."
The 24-year-old's credits her parents' drive as her inspiration. And it's obvious to her team members too. Vincent Zhou, who became the first skater to land a quad lutz at the Olympics, described Nagasu as "the hardest worker I know."
"She'll do triple axels after triple axels until [coach Tom Zakrajsek] has to drag her off the ice," he told The New York Times, commenting on her practices. "She's incredible. She will skate 17,635 long programs and then do a short program every single day."
From the restaurant to the ice rink, Mirai has come a long way thanks to her parents' values.
"As a kid, she used to play in the back room," Fiona Lee, another patron, told the Los Angeles Times. "When we saw her on TV, I said, 'Oh my God, the little girl came out of the back room and is now in the Olympics.'"
Read more: http://www.huffingtonpost.com/